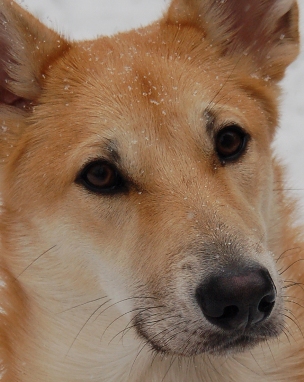 Registered Name: CH 'PR' GreatMountain Ningo Saba CGC
Call Name: Saba
Birth Date: June 14, 2007
Sire: Hurricane Crispin's Soul (Crispin)
Dam: GreatMountain X Yukon Charley (Charley)
PENN Hip: 80th Percentile; Distraction Indices .35/.39; No evidence of DJD
CERF: Normal
Status: Spayed female
Saba, niece to our Kusko, was our first open female, and produced two litters, one in 2010 and one in 2012. Saba is a 4th generation cross. In the spring of 2009 she passed all her health screenings and judge's evaulation, was approved by the COA board and in June of 2009 was declared a purebred chinook. This is a big accomplishment for this litter and for GreatMountain !
Saba is a very sweet, yet very silly dog. She is perpetually happy, and loves to have a toy in her mouth, and to show the toy to everyone in the room, over and over again.
Coming into a new home, with two big males, Saba acted as if she had always been there, and immediately fell for both of her new pack mates. She and her uncle Kusko play all the time, and Kusko spoils her by allowing her to sleep in his crate and often on top of him.
Ningo was the name of the original Chinook's mother, and Saba is a small island in the Carribean known for its scenic beauty above and below water.
| | |
| --- | --- |
| Saba at birth | Saba was a very small puppy, but nearly caught up with her siblings in size. As you can see, she's been rather "toy obsessed" from an early age. |
| | | |
| --- | --- | --- |
| Saba at 3 weeks | A very confident puppy, Saba still likes to be with her armadillo to this day. | At 6 weeks, still with her armadillo |
The many ears of a Chinook puppy ...


Down ears at 9 weeks


Starting to go up


At 10 weeks, still not sure
| | |
| --- | --- |
| Finally, the ears are up | Saba love to cuddle and sleep on her humans |
| It fun to play in the mud, then play on the bed ! | ...and then to nap, with an armadillo in your mouth |
| Still the snow dog at 14 ! | All hail the Queen! |