(Much of this information, and more, can be found on the COA website history page)
Arthur Walden's famed lead dog, Chinook, was born in New Hampshire on January 17, 1917. He was tawny with a black mask and descended from mixed parentage. His dam was a Greenland Husky, his sire, a large tawny, Mastiff/St. Bernard-type dog.
Chinook had the intelligence, power, endurance, speed, and friendly nature that Walden was trying to develop in a sled dog. He was a great lead dog, but was also known for his gentle disposition toward children.
With Chinook in lead, Walden and his "Chinook" dog sled team were the first to successfully climb Mount Washington. Walden is credited with bringing the sport of sled dog racing to the New Hampshire area; founding the New England Sled Dog Club in 1924, which is still in existence today. Walden's teams dominated this sled dog racing circuit for many years.
Admiral Byrd appointed Arthur Walden lead driver and dog trainer for Byrd's 1929 Antarctic Expedition. Byrd wrote in Little America, "Had it not been for the dogs, our attempts to conquer the Antarctic by air must have ended in failure."
In 1939, the breed was purchased by Perry Greene and moved to Waldoboro, Maine, where the Perry Greene kennel became the world's only producer of Chinooks. After his death in 1963, the breed dwindled. In 1965, the Guinness Book of World Records recorded the Chinook for the first time as the "Rarest Dog in the World", with only a hundred twenty-five living, and by 1981, there were only 11 breedable Chinook dogs in the world.
Fortunatey, a concerted effort was made by many dedicated individuals to save this breed, and in 1991, the Chinook became registered with the UKC (united Kennel Club). Today there are more than 800 registered Chinooks.
The Chinook is known as a friendly, non-aggresive, gentle dog. Great with children and other animals, the Chinook is very eager to please. They are very attached to their owners and while certainly happy to be in harness pulling a sled, are also equally happy laying on the couch, curled up next to their family.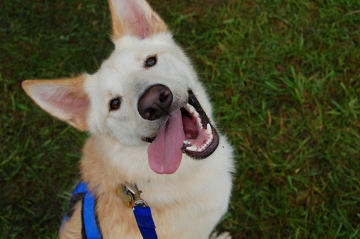 Sometimes noble, sometimes just silly ...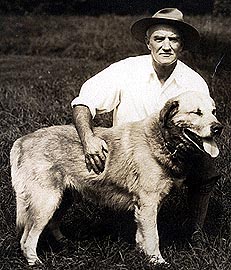 Arthur Walder, with Chinook