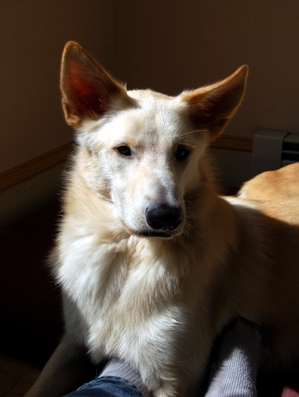 Registered Name: 'PR' GreatMountain Atlin Moekaneu CGC
Call Name: Atlin
Birth Date: April 19, 2005
Sire: 'PR' Northeast Wind Moosilauke (Moose)
Dam: GR CH 'PR' RainMountain Moxie O'BearCreek CGC (Moxie)
OFA: N/A
CERF: Normal
Status: Neutered Male
Atlin simply loves everyone he meets. He is happiest when receiving a belly rub, and has inherited the "agressively sweet" nature of his mother. He wants nothing more than for someone to be petting him at all times.Atlin is a true "mama's boy", follwing Kim around wherever she goes.
While not prone to playing with toys or running around the house, once in harness, his "inner sled dog" comes out. Atlin does not want to "line out" but instead wants to run as soon as the harness is on. Once hooked up to a sled or skier, Atlin will take off at full speed, pulling as hard as he can ! It's quite an adventure.
Atlin is also named for one of the original Chinook's sons, with the name Atlin being a town in British Columbia. The term Moekaneu is the Lenape term for dog.
| | | |
| --- | --- | --- |
| Atlin, 1 day old with his mother Moxie | Atlin was a very sedate puppy, often referred to as the "anti-Kusko". | Atlin, the fuzz ball, at 5 weeks |
| | | |
| --- | --- | --- |
| Meeting Kusko for the first time | Chinooks don't have neck bones | Atlin shown with two of his favorite things - his buddy Kusko, and the refrigerator. |
| | | |
| --- | --- | --- |
| "... the better to hear you with" | In addition to sledding and obedience, in 2007, Atlin became the first Skyland Chinook to win a title, becoming a "Canine Good Citizen" | Showing off that new CGC title |
| | |
| --- | --- |
| Atlin in the snow | Big dog, big guy, little sled |
| | |